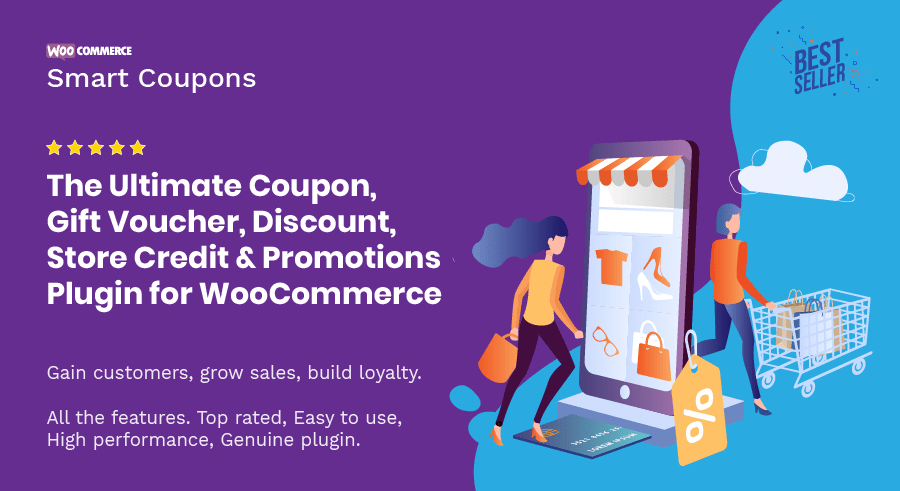 Smart Coupons
By: StoreApps
Added: August 17, 2021
Smart Coupons provide an "all-in-one" solution for gift certificates, store credits, discount coupons, and vouchers. The plugin allows customers to buy credits for themselves or gift them to others. It automatically issues coupons on product purchases and provides "Apply Coupon with One Click" technology.
When to Use Smart Coupons
Use Smart Coupons when you need more advanced functionality outside of basic price and percentage discount offerings.
Support Scope:
We will install, activate, and configure settings based on the generated PDF worksheet.
---
Requirements for Setup:

The Functionality Form must be completed, and the PDF added to the project.
Download the file from Vendor Package Builder.
Go to WordPress Admin > Plugins > Add New.
Click Upload Plugin at the top.
Choose File and select the .zip file you downloaded in Step 1.
Click Install Now and Activate the extension.
---
Functionality Path:
WooCommerce>Marketing and Messaging>Sales Conversions and Reporting>Smart Coupons
Reference the link(s) below for how to setup Smart Coupons:
Supported Plan(s):
---
Functionality:
---
Availability:
---
Supported Feature requests require a PDF Worksheet be generated using the Functionality Form, and the PDF Worksheet must be added to the project.

Functionality Path:
WooCommerce>Marketing and Messaging>Sales Conversions and Reporting>Smart Coupons