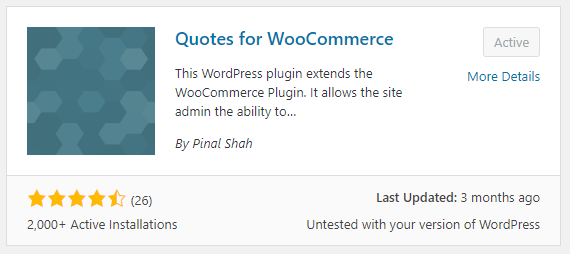 Quotes for WooCommerce
By: Pinal Shah
Added: December 2, 2020
The Quotes for WooCommerce plugin allows you to convert your WooCommerce store into a Quote only program. The site admin is able to hide the prices on a per product basis and modify the "Add to Cart" button to 'Request Quote'.
No payment is taken at Checkout. The prices for the product can be setup in the WooCommerce->Orders page and once a quote is finalized, the plugin will send an email to the end user notifying the same.
The users can then make the payments using the link in the email or the My Accounts page.
NOTE: This plugin does not change bookable or subscription products into quotable products. It is for simple or variable products only.
When to Use Quotes for WooCommerce
When a customer requests the option to request a quote on their products.
Support Scope:
We will install, activate, and configure settings based on the generated PDF worksheet.
---
Requirements for Setup:

The Functionality Form must be completed, and the PDF added to the project.
Builders will need to know which products need the quote option applied to them.
Install and activate the plugin from the WordPress->Plugins page.
Once the plugin is enabled, a product can be setup as quotable using the settings in Product Data->Inventory tab.
Once enabled, the price for the product is hidden from the user.
User can add such products to the cart and place orders without making a payment.
Payments can be collected once a quote email is sent to the user.
---
Functionality Path:
WooCommerce>Payments>Options>Quotes
Reference the link(s) below for how to setup Quotes for WooCommerce:
Use Case(s): Quotes and Retail
Supported Plan(s):
---
Functionality:
---
Availability:
---
Supported Feature requests require a PDF Worksheet be generated using the Functionality Form, and the PDF Worksheet must be added to the project.

Functionality Path:
WooCommerce>Payments>Options>Quotes