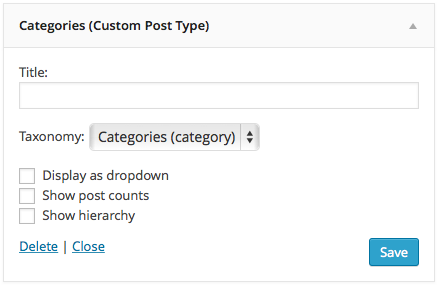 Custom Post Type Widgets
By: thingsym
Added: December 2, 2020
Custom Post Type Widgets adds Custom Post Types or Custom Categories created in pods to the default widgets included in WordPress like categories, tags, archives, recent posts, search, etc. 
When to Use Custom Post Type Widgets
Use this plugin if a site requires displaying a custom post type in a category, archive, search, recent post, etc. It's typically good for sites with custom post types created with Pods.
Support Scope:
We will install, activate, and configure settings based on the generated PDF worksheet. 
---
Requirements for Setup:

The Functionality Form must be completed, and the PDF added to the project.
Download and unzip files. Or install Custom Post Type Widgets plugin using the WordPress plugin installer. In that case, skip step 2.
Upload "custom-post-type-widgets" to the "/wp-content/plugins/" directory.
Activate the plugin through the 'Plugins' menu in WordPress.
---
Functionality Path:
Premium>End User Enhancement>Search and Filters>Custom Search and Filter
Reference the link below for how to setup Custom Post Type Widgets:
IMPORTANT: By default, WordPress will not work Date-based permalinks of custom post type. Recommend that you install the plugin in order to edit the permalink, if you are using a Date-based permalink. And try the following: Custom Post Type Rewrite
Supported Feature requests require a PDF Worksheet be generated using the Functionality Form, and the PDF Worksheet must be added to the project.

Functionality Path:
Premium>End User Enhancement>Search and Filters>Custom Search and Filter