Admin Columns
By: AdminColumns.com
Added: December 2, 2020
Manage and organize columns in the posts, users, comments and media lists in the WordPress admin panel. Transform the WordPress admin screens into beautiful, clear overviews.
Admin Columns greatly enhances your WordPress installation. Whether you're running a simple blog or a full-blown enterprise website, it will prove its worth within minutes. Thanks to our dedicated development and support team, you can rest assured that Admin Columns will persist to be an essential part of any WordPress installation.
To give you some insight into the great amount of possibilities Admin Columns offers to enhance your (or your client's) WordPress admin panel, be sure to check out the screenshots or the demo video!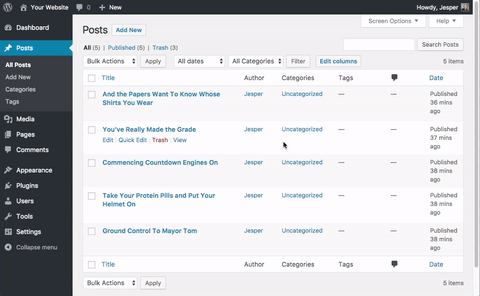 Supported Feature requests require a PDF Worksheet be generated using the Functionality Form, and the PDF Worksheet must be added to the project.

Functionality Path:
Premium>Dashboard Enhancement>Customization>Add/Edit Post Columns
---