Bookings Availability
By: WooCommerce
Added: January 13, 2022
WooCommerce Bookings Availability is an add-on for the main WooCommerce Bookings extension (separate purchase) which gives customers two ways to view and select Bookings directly from posts and pages with:
A schedule block displaying a list of available slots in a day, a week or a month.
A calendar block displaying available slots on a weekly or monthly calendar.
Both blocks enable customers to customize the booking if it has options available and add it directly to their cart.
Choose which products are represented in your calendar or schedule:
All Products – Add all bookable products
Specific products – Select a list of individual products
Specific categories/resources – Select one or multiple categories or resources
When to Use Bookings Availability
Use WooCommerce Bookings Availability when a customer has WooCommerce Bookings products setup and would like to display them in a Booking List or a Booking Calendar directly on a page or post.
Bookings Availability is only available on plans that are on Managed WooCommerce.
Support Scope:
We will install, activate and configure settings.
---
Requirements for Setup:

Worksheet must be completed. WooCommerce Bookings Availability is an add-on and requires WooCommerce Bookings.
---
Functionality Path:
WooCommerce>Products>Product Type and Options>Bookings

Bookings Availability is part of Managed WooCommerce and is installed and activated from WooCommerce Extensions in the WordPress dashboard.
Dashboard > WooCommerce > Extensions > Bookings Availability (Install/Activate)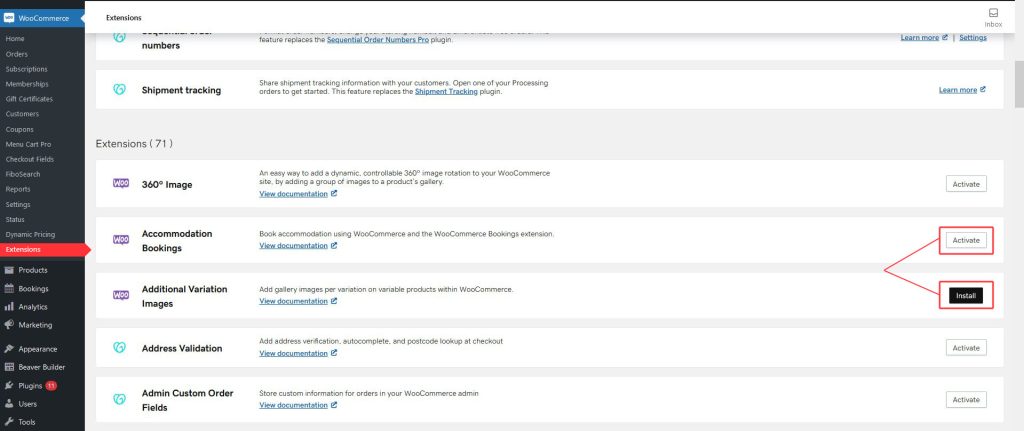 Not seeing the WooCommerce Extensions?
Website Specialists - please follow these steps
Builders - please open a TC for further assistance
Configure according to the provided worksheet. Reference the links below for how to setup the plugin.
Supported Plan(s):
---
Functionality:
---
Availability:
---
Supported Feature requests require a PDF Worksheet be generated using the Functionality Form, and the PDF Worksheet must be added to the project.

Functionality Path:
WooCommerce>Products>Product Type and Options>Bookings
---