Additional Variation Images
By: WooCommerce
Added: January 12, 2022
Add any number of images to your variable product variations
The WooCommerce Additional Variation Images extension allows you to add additional gallery images per variation on variable products within WooCommerce.
By default WooCommerce will only swap the main variation image when you select a product variation, not the gallery images below it.
This extension allows visitors to your online store to be able to swap different gallery images when they select a product variation. Adding this feature will let visitors see different images of a product variation all in the same color and style.
When to Use WooCommerce Additional Variation Images
Additional Variation Images would be used when you need to have multiple images per product variation (i.e. a t-shirt in different colors could show the front and back according to color selected). For example functionality please see the demo.
WooCommerce Additional Variation Images is only available on plans that are on Managed WooCommerce.

Support Scope:
We will install, activate and configure settings.
---
Requirements for Setup:

Worksheet must be completed and customer must provide and specify the images to be used for each product variation.
WooCommerce Additional Variation Images is part of Managed WooCommerce and is installed and activated from WooCommerce Extensions in the WordPress dashboard.
Dashboard > WooCommerce > Extensions > WooCommerce Additional Variation Images (Install/Activate)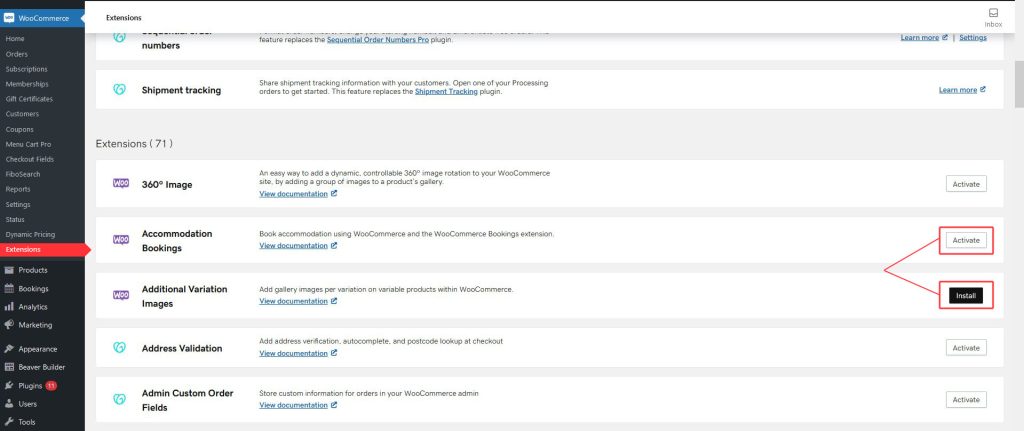 ---
Not seeing the WooCommerce Extensions?
Website Specialists - please follow these steps
Builders - please open a TC for further assistance
---
Functionality Path:
WooCommerce>Products>Product Enhancement>Product Variation Gallery
Configure according to the provided worksheet. Reference the links below for how to setup the plugin.
Supported Plan(s):
---
Functionality:
---
Availability:
---
Supported Feature requests require a PDF Worksheet be generated using the Functionality Form, and the PDF Worksheet must be added to the project.

Functionality Path:
WooCommerce>Products>Product Enhancement>Product Variation Gallery