WooCommerce Accommodation Bookings
By: Developed by WooCommerce - Automattic
Added: December 2, 2020
Our Hospitality Industry sites will need a solution that will simplify tracking of overnight and long-term bookings, as well as allow their guests to book online with ease.
The Accommodation add-on for WooCommerce Bookings adds an "Accommodation" option. Guests will have the ability to quickly book overnight stays in a few clicks. It allows control over check-in/check-out times, "number of nights" rather than "days", as well as special room rates.
Accommodations is an ADD-ON, and works in combination with WooCommerce Bookings
Accommodation Bookings is a free add-on for the WooCommerce Bookings extension. WooCommerce Bookings is required for Accommodation Bookings to work.
Key Features:
Adds a new "Accommodation" option to the WooCommerce Bookings extension
Adds check-in and check-out times
Allows the booking duration to be specified as "number of nights"
Adds an "override price" feature that automatically enables special rates (i.e., weekend or holiday rates)
When to Use Accommodation Bookings
Use this add-on to Woo Bookings to include duration (check-in/checkout time) and special room rates as part of the bookable slot. HOTELS, HOUSE RENTALS, ETC.
Support Scope:
We will install, activate, and configure settings based on the generated PDF worksheet.
---
Requirements for Setup:

Accommodations is an ADD-ON, and requires WooCommerce Bookings.
The Functionality Form must be completed, and the PDF added to project.
Accommodation Bookings is part of Managed WooCommerce and is installed and activated from WooCommerce Extensions in the WordPress dashboard.
Dashboard > WooCommerce > Extensions > Accommodation Bookings (Install/Activate)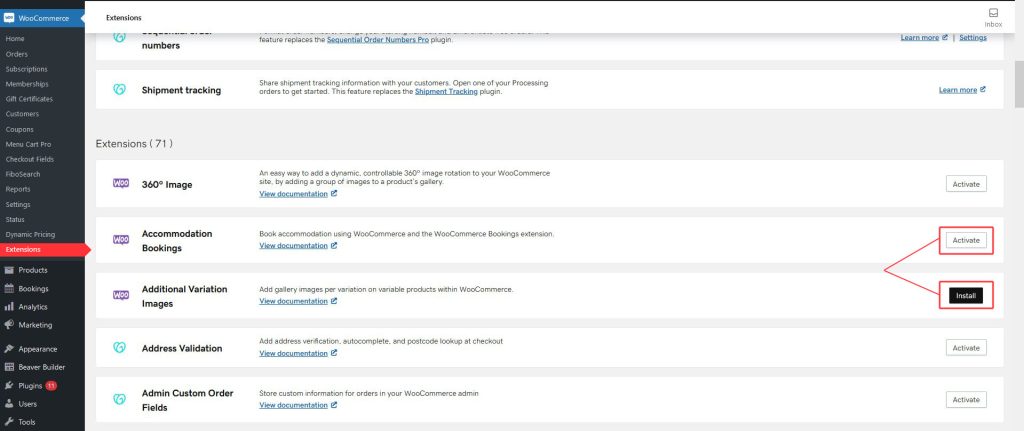 ---
Not seeing the WooCommerce Extensions?
Website Specialists - please follow these steps
Builders - please open a TC for further assistance
---
Functionality Path:
WooCommerce>Products>Product Type and Options>Accommodations
Reference the link(s) below for how to setup Accommodation Bookings: 
Supported Plan(s):
---
Functionality:
---
Availability:
---
Supported Feature requests require a PDF Worksheet be generated using the Functionality Form, and the PDF Worksheet must be added to the project.

Functionality Path:
WooCommerce>Products>Product Type and Options>Accommodations