Gravity PDF
By: Gravity PDF
Added: December 2, 2020
Gravity PDF is the self-hosted solution for dynamically creating digital PDF documents using Gravity Forms and WordPress. Out of the box you receive four highly-customizable PDF designs. Within minutes, you can personalize the look and feel by adding your company logo, header, footer, paper size/orientation, font, color and size. If these designs don't suit, select a new one from the Template Shop, go Bespoke, or build your own using HTML/CSS/PHP.
When a PDF attachment is needed for gravity form submissions.
Support Scope:
We will install, activate, and configure settings based on the generated PDF worksheet. 
We will only use the pre-defined PDF templates provided by the plugin and will not create a custom form.
---
Requirements for Setup:

The Functionality Form must be completed, and the PDF added to the project.
Customer should choose one of the four available base templates provided in the plugin. We can modify these slightly, but the customer should be aware that we will not customize these layouts.
Go to: dashboard > plugins > add new > search for Gravity PDF > Install and Activate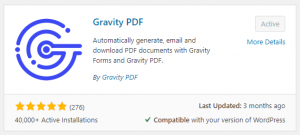 ---
Functionality Path:
Premium>Forms>Add-Ons>PDF Attachment on Form Submissions
Reference the link(s) below for how to setup Gravity PDF:
Supported Feature requests require a PDF Worksheet be generated using the Functionality Form, and the PDF Worksheet must be added to the project.

Functionality Path:
Premium>Forms>Add-Ons>PDF Attachment on Form Submissions